Chri
stine Marie and Kenny Z are…the Dangerous Hearts. This award winning Americana duo delights crowds with original songwriting combined with amazing harmonies & driving guitar.
They have won awards for Best Vocalist, Best Band, Nashville Star finalists and Arts Grants winners. Christine Marie recorded lead vocals for Guitar Hero, CBS blues specials and countless jingles. Kenny is an accomplished songwriter with over 100+ originals and a movie soundtrack to his credit. This energetic duo encompasses the spirit of Americana as they weave between Roots, Country, Blues and Bluegrass.
Dangerous Hearts were recognized by Ronnie Sarig of Rolli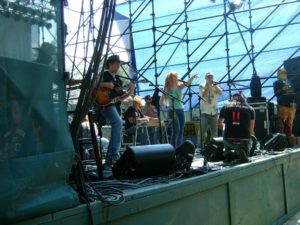 ng Stone for "crafting excellent songs". Their first major release has been recorded at the legendary Perdernales Studio (Willie Nelson's Studio) and Bismeaux (Ray Benson's studio) with Austin City Limits engineer/producer Chet Himes (Stephen Bruton, Los Lonely Boys, Marcia Ball, Christopher Cross, Double Trouble & Van Halen!)
Best known for their superb vocals, versatile harmonies and catchy song writing
Dangerous H
earts have shared the stage with….
Pat Green, Kevin Fowler, Billy Bob Thornton, Billy Joe Shaver, Miranda Lambert, Jennifer Nettles (of Sugarland), Paula Nelson, Dale Watson, David Alan Coe, Kelly Willis & Bruce Robison, Bobby Boyd, Rick Trevino, Waylon Payne, Jason Allen, Reckless Kelly, Joe Ely, Rusty Weir, Danni Leigh, John Arthur Martinez, Jason Boland and many more.